Financial affiliate programs might be intimidating. But believe us when we say that you don't need to be a CPA or a financial advisor to succeed in the personal finance industry. All you have to do now is discover the best financial affiliate programs, send your audience to them, and let the credit card firms,large banks and lending companies clinch the sale. And now is an excellent moment to begin advertising financial affiliate programs. After all, according to SuperMoney, credit cards are by far the most prevalent sort of borrowing in the United States
More than 191 million Americans own credit cards, with the average cardholder owning at least 2.7 cards and a credit card debt of $5,315 per household. And that's only a taste of the opportunities that exist in the credit card industry. When you factor in things like savings and bank accounts, loans, credit scores, and a whole lot more, it's evident that the financial business is a gold mine for affiliate marketers.
Personal Capital Financial Affiliate Program
For anyone wishing to track their cash flow and net worth, Personal Capital includes a lot of free options. All of your financial accounts can be linked together so you can keep track of all of your bills, debt, income, and investments in one spot.
For investors searching for adviser and management services, Personal Capital does include certain paid features. You can earn through their affiliate program by generating leads. 
URL:https://www.personalcapital.com/affiliates 
Commission: 100% per signup with at least $100,000 in tracked assets
Cookie duration: 30 days
Credit Karma
If we talk about commissions in Credit Karma, there is not a lot for you. But since it is a free service, its advertising process is much easier. You just have to demonstrate the benefits of Credit Karma's free credit tools to convince your audience.
Credit cookie duration on Karma is 30 days, and all your lead has to do to get paid is register an account. This is quite beneficial keeping in mind how other financial affiliate programs work. There you have to ask your customers to deposit or spend money in order for you to gain a commission. 
Credit Karma can also be recommended alongside other financial affiliate items such as credit cards or banks that give loans. This generates a one-of-a-kind cross-sell opportunity that boosts profits.
URL: https://www.flexoffers.com/affiliate-programs/credit-karma-affiliate-program/ 
Commission: $2.00 per new signup
Cookie duration: 30 days
BBVA Bank Financial Affiliate Program
The BBVA brand may not be immediately recognisable to you, yet it has been around since 1964. They've also changed their several names over the years  and now are eventually eventually known as BBVA. They offer a variety of services ranging from credit cards and personal and business loans, mortgages and a variety of investment options.
For each qualified lead you, you will earn $85. There's also nothing stopping you from negotiating a better commission rate if you send enough pre-qualified traffic to a plan like this. And the beauty of a service like this is that you can market it to almost any demographic – from parent bloggers to home decor websites to those learning about personal finance.
URL: https://www.cj.com/ 
Commission: $85.00 per qualified lead
Cookie duration: 0 days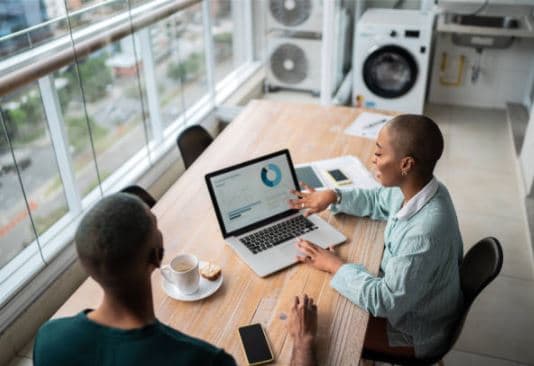 Coinbase
Coinbase stands out in the burgeoning bitcoin market thanks to its superior user experience and dependability. It is quite picky about who it accepts as affiliates, with a low approval rate. Binance, for example, offers regular lifetime commissions on sales and transactions, making it a more profitable long-term option.
It's critical to understand your audience's psychographics when it comes to cryptocurrency affiliates. Crypto has made a name for itself in the personal finance world, with several notable bloggers now recommending it as a valuable diversification tool.
However, before advertising cryptocurrency, it's a good idea to see how your audience thinks about it. If people regard it as a risk, more content will be required to persuade them to use the platforms. They must also be confident enough to invest their money because commissions are only paid on active deals.
Affiliate marketing for more traditional financial items will be more beneficial if the majority of your audience views cryptocurrency negatively. It takes work to earn your audience's trust, and it's not worth sacrificing it to promote a product.
URL: https://www.coinbase.com/affiliates 
Commission: 50% for the first three months
Cookie duration: days
Robinhood
Different incentives exist for leads vs funded accounts in both Robinhood and its equivalents (eToro does not pay for leads). Leads are users who join up for an account with their email address, but paying the account requires establishing a bank account.
Promoting Robinhood has serious risks, as the company's public image has been tarnished due to its reliability and business methods. In early 2021, during the Wallstreet Bets disaster, Robinhood faced a major backlash when it  froze the purchasing and trading of certain meme stocks. Many users believed that this went against the company's initial objective of democratizing investment.
Having said that, its user base continues to increase. It pioneered zero-commission trading and is praised for its user-friendliness and wide choice of investment alternatives. Before promoting Robinhood, test the waters with your audience to determine what kind of feelings they have about the site.
URL: https://affiliates.robinhood.com/ 
Commission: $5.00 per lead, $20.00 per funded account
Cookie duration: 30 days
Questrade
Questrade makes it easier for young Canadians and first-time investors to invest and trade. The cookie duration for their affiliate program is 60 days, which is longer than most. Questrade and Wealthsimple have more straightforward payment systems than Qtrade, but Qtrade may be more profitable based on the average volume of trades your audience does.
URL: https://www.questrade.com/affiliates/overview 
Commission: CA$0.00 commission
Cookie duration: 60 days
 Credit Sesame
Credit Sesame offers unique features. It gives you free membership including free credit reports as well as $50,000 in identity theft insurance. You can sell both goods as complements to one another because they are both free products with somewhat distinct value propositions.
Lifelock does offer a greater raw commission, but only after the audience pays for it. 
This can be tedious for some affiliates. To put it another way, it takes longer to convert a free audience to a premium product, therefore you have to carefully choose a sweet spot between commission rates and conversion volumes.
URL: https://www.creditsesame.com/about/affiliate/ 
Commission: $3.00-$6.00 per signup, with the possibility to increase
Cookie duration: 30 days
LifeLock
LifeLock was founded because identity theft is significantly more common than most people assume. The average victim loses at least $1,343, which is a substantial amount. However, the total financial impact of these crimes has been around $107 billion since 2011.
They monitor your accounts for unusual activity such as address changes or credit file adjustments, as well as the sale of your personal information on the dark web. However, a significant number of businesses fail to notify data breaches for up to 60 days after they occur.
This implies that the market for LifeLock's services is potentially endless. As you can see, safeguarding people against cybercrime can be extremely profitable, with commissions of up to $110 per sale.
LifeLock has been around since 2006, thus their product clearly appeals to a large range of people. They provide a variety of membership options, with the most basic plan guaranteeing up to $25,000 in stolen funds restitution if you are a victim of identity theft.
URL: https://www.lifelock.com/affiliates/ 
Commission rate: Up to $110 per sale
Cookie duration: 30 days
Barclays US Online Savings Financial Affiliate Program
Barclays and its BarclayCard are based in the United Kingdom. They've customers all around the globe, even in the United States. Its affiliate programs cater to those who already have a bank account and wish to use Barclays interest rates to make profits.
A closer examination of their EPC of $906.78 reveals their potential. However, the numbers speak for themselves. Affiliates that promote it are already generating a lot of money.
URL: https://www.cj.com/ 
Commission rate: $2 per sale
Cookie duration:  45 days
CIT Bank Financial Affiliate Program
CIT Bank was founded in 1908 as a small business lender in St. Louis, Missouri. Over the previous two decades, this bank has expanded from strength to strength, surviving two global recessions and innumerable global conflicts.
They've also expanded their financial product offering to include personal savings and CDs, as well as mortgages. No-fee CDs and long-term, high-interest accounts are among their savings possibilities.
CIT also pays affiliates $100 for each qualified lead they send their way, which is a significant sum when compared to other affiliate programs, including those offered by competitors. Promoting financial agreements like CIT will almost probably take more time and work on your part, but the payoff will be substantial. Even if getting a $10 commission takes twice as long, you'll still make ten times as much with half the effort.
URL:https://www.cit.com/business/partner/strategic-relationships/ 
Commission rate: $100 per lead
Cookie duration: 30 days
The Takeaway
If you run an affiliate-marketing-enabled website, your affiliate commissions are very certainly dispersed among a number of different platforms.This makes it difficult to obtain a sense of what's performing effectively, test different products and programs efficiently, and optimize your material for conversion. Affiliate was created to address this issue. It allows you to centralize all of your affiliate data (clicks, commissions, and content analytics) in order to improve conversion and income.